This
post
was originally published on
this site
Consumer discretionary stocks are the most sensitive to the market cycle, and right now they're giving no indication that cycle is about to turn, according to one of Wall Street's most closely followed technical analysts.
"Discretionary names historically deteriorate before the cycle ends," said Jeff deGraaf, founder and chairman of Renaissance Macro Research, in a Wednesday note. "That makes them excellent contrarian proxies for the market cycle. With discretionary names at new relative highs, it suggests that the market cycle is still in middle, even early, but not the late innings that inflation and growth suggest,"
He pointed to the charts below, tracking the outright and relative performance of the Russell 3000 equal-weight consumer discretionary sector, to make the point.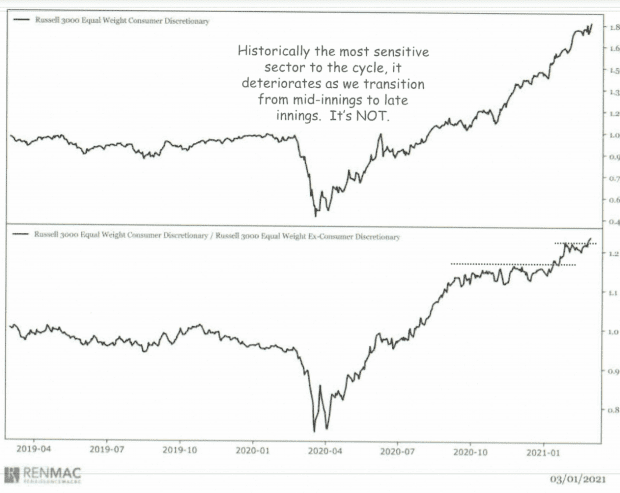 Renaissance Macro Research
Stocks were putting in a mixed performance Wednesday, with the Dow Jones Industrial Average DJIA, +0.23% up 90 points, or 0.3%, while the S&P 500 SPX, -0.50% fell 0.3% and the tech-heavy Nasdaq Composite COMP, -1.60% dropped 1.1%. Equities wobbled last week as fears of an inflationary surge triggered a jump in bond yields. But if discretionary stocks are a guide, there's little evidence of price pressures so far.
"We could be wrong, but discretionary names are likely to weaken as we see sustained inflationary pressure build and the costs of consumer borrowing and energy erode their purchasing power (that's not happening yet)," deGraaf wrote.