This
post
was originally published on
this site
Hyundai has just unveiled its latest electric vehicle, the Ioniq 5. This midsize 5-passenger electric SUV joins the existing Kona compact SUV EV and Ioniq hatchback EV in Hyundai's HYMTF, +3.75% lineup, but it represents a whole new direction in the automaker's electrification efforts.
Just one look tells you that. The 2022 Hyundai Ioniq 5 has super sleek futuristic looks, a bevy of technology, and surprising touches inside and out.
Don't miss: Volkswagen explores the flying car market in China
Here are five things to know about this new vehicle.
It boasts Hyundai's latest electrification technology. The Ioniq 5 is built from the ground up as an electric vehicle and will be available with a standard 58 kilowatt-hour battery or long-range 77.4 kWh battery. Range for U.S. models is still being calculated, but at its launch in Hyundai's home market of South Korea, max driving range is said to be around 300 miles.
It offers a choice of rear- or all-wheel drive. Rear-wheel-drive (RWD) cars have a sporty nature to them and in the case of the Ioniq 5 will have a longer range. All-wheel drive (AWD) is great for better grip and good to have in cold-weather states where extra traction counts. As for performance, Hyundai says the Ioniq 5 can do 0-60 mph in as little as 5.2 seconds.
It offers an augmented-reality head-up display. This marks the first use of AR technology in a Hyundai. AR allows overlays of information, direction markers and more to "augment" what you are actually seeing. Other notable tech includes a pair of 12-inch digital displays and Hyundai SmartSense with the brand's latest driver-assist technology.
The interior is called a "Living Space." Perhaps pointing to a future where cars drive themselves and riders are free to relax, the Ioniq 5 has what Hyundai calls an open, airy "Living Space" theme. A prominent feature is the Universal Island, a center console that can move and adjust to create space. A flat floor also fosters a roomier feel, and one photo provided by Hyundai even shows a driver lounging in the seat.
It can charge other electric devices. Thanks to it housing a big battery itself, the Ioniq 5 can charge other electric devices such as electric bikes, scooters and camping equipment. The vehicle can supply up to 3.6 kW of power thanks to a V2L port under the rear seats, plus another port on the outside of the vehicle that can provide juice even when the vehicle is off.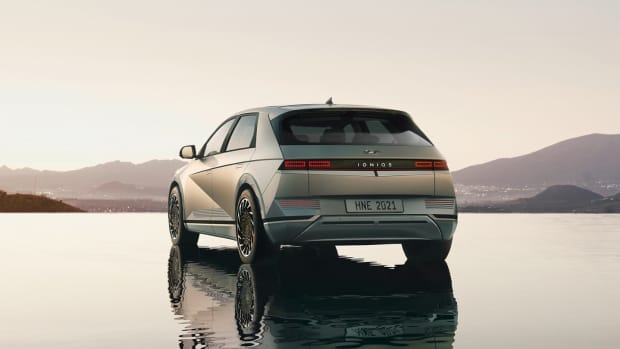 The Ioniq 5
Hyundai
2022 Hyundai Ioniq price and arrival
The Ioniq 5 is just the start of an electric offensive for Hyundai that will also include more electric vehicles from its Genesis luxury brand and Kia corporate cousin.
See: How augmented reality is taking you car shopping
The 2022 Hyundai Ioniq 5 is expected to go on sale in the first half of the year. Pricing will be announced close to its on-sale date.
This story originally ran on Autotrader.com.