This
post
was originally published on
this site
Bond yields have been surging. That, in theory, should make stocks less attractive on relative valuation terms.
Yet the stock market rally has hardly been derailed as the yield on the 10-year Treasury TMUBMUSD10Y, 1.166% reached 1.20% on Monday, extending this year's nearly quarter-point advance. U.S. stock futures ES00, +0.46% pointed to an upbeat start on Monday, and European stocks rose. The S&P 500 SPX, +0.47% climbed nearly 5% last week as it recorded its seventh record high of the new year.
Société Générale strategists led by Roland Kaloyan examined stocks in the face of the 10-year Treasury at an 11-month high. They looked at earnings yields — basically, forward price-to-earnings turned on its head — and compared with bond yields.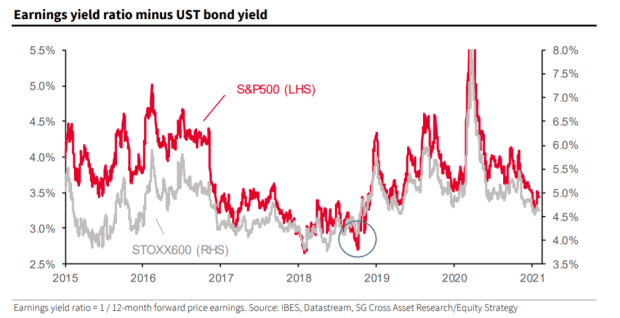 As the chart shows, the gap between earnings and bond yields isn't as narrow as it was at the end of 2018, when stocks lurched lower. The current spread suggests equities could absorb Treasury yields above 1.5%, the strategists said. And assuming earnings continue to move in line with analyst expectations, U.S. and European equities markets could absorb another 135 basis points of tightening by the end of the year, the strategists said.
Analysts expect S&P 500 earnings to grow 24% this year and 16% next year, and for Stoxx Europe 600 SXXP, +0.56% companies' earnings to grow 41% this year and 16% next year. "We remain constructive on the equity markets but U.S. and/or European companies not delivering on those EPS [earnings per share] growth expectations is probably today a bigger risk to the (respective) equity indices than rising bond yields," said the strategists.