This
post
was originally published on
this site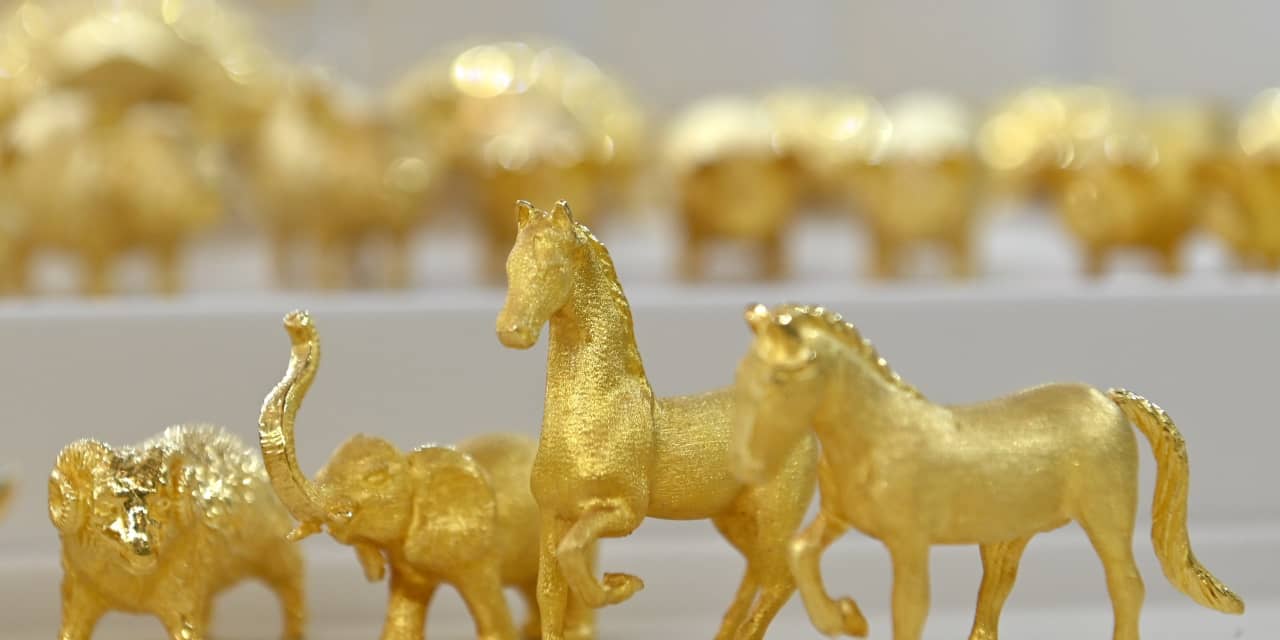 Gold prices rallied on Thursday, dragging bullion toward its highest settlement in five weeks and above a price that investors view as a short-term bullish signal.
The moves for the metal come as Washington lawmakers signaled a deal was near on a roughly $900 billion package of economic relief, which would include extended unemployment benefits, aid to small businesses and another round of checks to Americans struggling to find work.
Congressional leaders are aiming to attach the coronavirus aid deal to a separate $1.4 trillion bill providing full funding for the government through September 2021. To avoid a government shutdown, they need to pass the latter bill by midnight on Friday.
Against that backdrop, gold, which has been seen as benefiting from further money-printing by major developed governments, was on the rise.
February gold GCG21, +1.91% was trading up $27.10, or 1.4%, to $1,886.20 an ounce, on pace for its highest trade since early November and a potential finish well above its 50-day moving average presently at $1,874.31.
The focus on additional aid comes as COVID-19 cases and restrictions on business activity have intensified, threatening the economic recovery from the epidemic.
An outlook for lower interest rates for longer also is bolstering bullion, after the Federal Reserve on Wednesday emphasized its intention to keep interest rates pinned near 0% to at least 2023 until the economy fully recovers from the viral pandemic.
Meanwhile, Silver for March delivery SIH21, +4.44% 84 cents, or 3.4%, to trade around $25.90 an ounce.
"The precious metals bulls are stoked by a reaffirmed easy money policy from the Federal Reserve and rising hopes of a new stimulus package for Americans," wrote Jim Wyckoff, senior analyst at Kitco.com.
A steadily weakening U.S. dollar, as measured by the ICE U.S. Dollar IndexDXY which fell to its lowest level since the spring of 2018, also was bolstering gold prices, A weaker dollar can make precious metals priced in the currency less expensive for foreign buyers.
For the week thus far, gold is on pace for a weekly gain of 1.3%, while silver has risen 7.6% on the week. The dollar is set for a weekly skid of 1.2%.
"Bulls' next upside price objective is to produce a close in February gold futures above solid resistance at $1,900.00," Wyckoff wrote. "Bears' next near-term downside price objective is pushing futures prices below solid technical support at this week's low of $1,820.00," the analysts stated.
A string of U.S. economic data did little to alter the mood on Wall Street. A report on housing starts showed a 1.2% climb in November, with building permits rising 6.2% on the month to 1.64 million.
Meanwhile, a report on weekly unemployment claims showed that new claims rose to the highest level since early September, with initial claims rising to 885,000 from 862,000. That said, continuing state claims fell 273,000 to a 1.55 million rate, the data show.