This
post
was originally published on
this site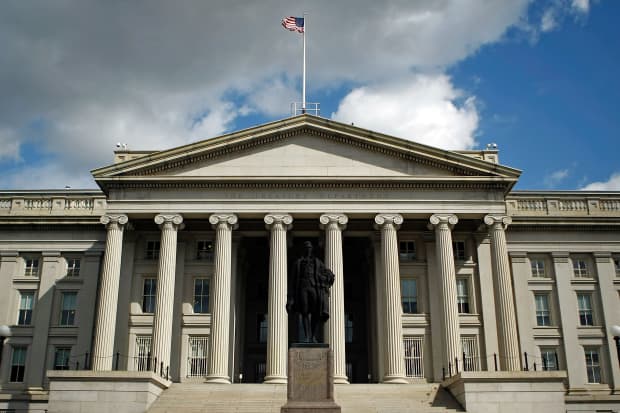 A statue of the first United States Secretary of the Treasury Alexander Hamilton stands in front of the U.S. Treasury.
(Getty Images)
The Treasury Department said Monday it expects to borrow $617 billion in the fourth quarter, which is $599 billion lower than previously estimated.
The decline was driven by a larger cash balance at the beginning of the quarter, the agency said in a press release. The updated forecast includes an end-of-quarter cash balance of $800 billion.
Looking ahead to the first quarter, Treasury said it expects to borrow $1.13 trillion in net marketable debt with a cash balance of $800 billion.
Treasury borrowed $454 billion in net marketable debt in the third quarter, lower than the Treasury's prior $947 billion estimate. The cash balance rose to $1.78 trillion, above estimates of $800 billion.
Additional financing details related to the Treasury's quarterly refunding will be released at 8:30 a.m. Eastern on Wednesday.
The U.S. annual deficit soared to $3.1 trillion in the year ended Sept. 30 as the government spent massive sums to offset the negative economic effects of the coronavirus pandemic.
The 10-year Treasury note yield TMUBMUSD10Y, 0.854% fell slightly to 0.849% after marking its largest monthly gain in over two years last Friday.