This
post
was originally published on
this site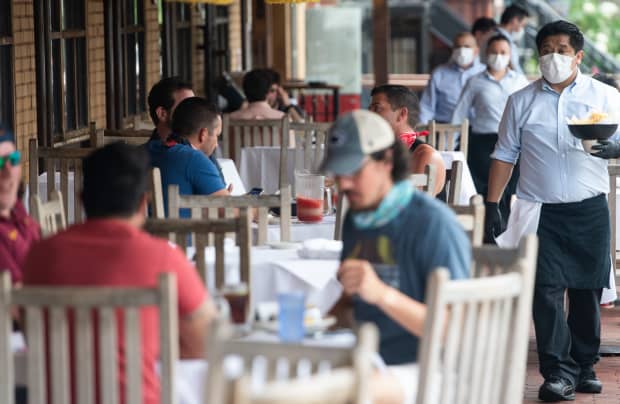 A waiter wearing a mask and gloves delivers food to customers seated at an outdoor patio at a Mexican restaurant in Washington, D.C., on May 29, 2020.
AFP via Getty Images
There's no question that restaurants and food businesses look different than they used to — diners sit in the middle of city streets and parking lots while shoppers line up six feet apart to get their produce at farmers' markets.
Tens of thousands of businesses have closed since the pandemic began in March, and many of them for good. But a quarterly economic average report from Yelp YELP, -0.47% found that even though businesses are shuttering in record numbers, many are opening and reopening with new operating models that use virus regulations to their advantage.
These so-called "pandemic-optimized businesses" have health and safety woven into their business models.
"Opening a restaurant is no easy feat under normal economic circumstances, yet it's happening during the pandemic at a higher rate than one might expect," the report said.
New restaurant openings dropped in April, but according to Yelp, a national rebound had already begun in May with a 29% average monthly increase of new restaurant openings over the summer. The data shows about 6,600 new restaurants opened in September 2020, only 100 fewer than September 2019.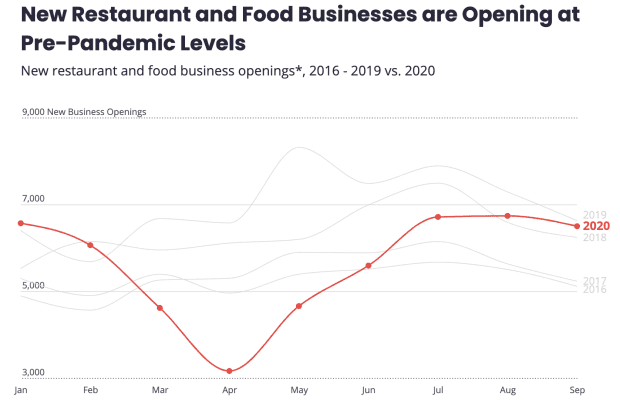 Source: Yelp Economic Average Report
Non-restaurant food business openings are on the rise as well. In Q3 2020, 211 new farmers' markets and 1,734 new food trucks opened, according to Yelp.
Small business owners have had to pivot to non-traditional formats to survive the pandemic, said Adriana Eiriz, vice president of sales and partnerships at Opportunity Fund, a nonprofit that makes small loans to entrepreneurs, especially low-income immigrants and women.
"We're seeing a lot of mobile food trucks because restaurant owners are realizing that they're not going to be able to get back to opening up their restaurants," she said.
However, pivoting to outdoor dining and food trucks has an expiration date for many businesses in colder regions of the country, Eiriz noted, adding that she predicts a wave of closures as the weather cools.
But for now, restaurant owners are looking to meet their customers where they're at in terms of safety and comfort, she said.
"I think all of us feel a little bit more comfortable consuming in that way because we're outside," she said.
Many restaurant owners started to get into the mobile food space even before the pandemic as a way to reach more customers without having to open additional brick-and-mortar locations, Eiriz said.
Even still, she said certain businesses might have to pivot even further by changing up the products they offer and the customer base they target.
"Everybody's having to stop, look, redesign and recreate," she said.
Customers' preferences have shifted dramatically even over the course of the pandemic. In the spring, Yelp saw an increase in review mentions for words like "contactless," "curbside," "takeout," "pickup" and "delivery."
But as the pandemic progressed and local governments began to shift regulations, Yelp reviewers were more likely to comment on "outdoor dining." Five times as many site users searched using the "outdoor seating" filter than they did last year, according to the report.
The third-quarter report found that reopening trends correlated with the rate of case containment, which varies by state. The reopenings spiked in April when some states began to lift their stay-at-home orders, declined in June and July when cases skyrocketed across the country, and then spiked again in September.
Even amid all of the closures, Eiriz said she senses a desire to be creative and collaborate among business owners.
"There is a really positive feeling of hope in small business owners," she said. "They are still resilient … they just need to rethink how they're doing things."