This post was originally published on this site
https://i-invdn-com.akamaized.net/content/pic705edb2b00fae8972f0a18613ee0908e.jpg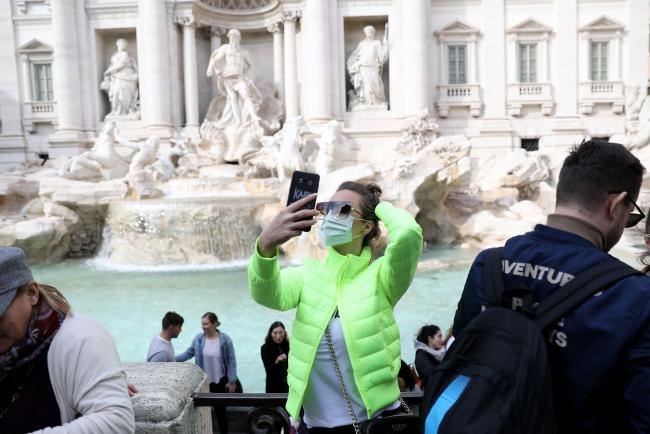 (Bloomberg) — U.S. President Donald Trump and federal health officials plan to brief the public Wednesday on efforts to prevent the spread of the coronavirus. A top American health official said that the increase in outbreaks outside China will make it harder to keep the virus outside the U.S.
New infections were diagnosed in countries from Pakistan to Brazil, which reported the first case in Latin America, while Italy and Iran confirmed additional patients with the disease. Germany said it was likely at the start of an epidemic, and 700 people remained confined in a hotel in Tenerife, one of the Canary Islands.
Chevron Corp. (NYSE:) asked traders and other staff at its Canary Wharf office in London to work from home as a precaution after an employee was tested for the coronavirus.
Key Developments
China death toll at 2,715, Hubei province adds 52 fatalities
U.S. confirms 15th case, not including ship evacuees
Globally 2,771 have died and 81,233 people have been infected
Stocks rise in U.S., pare losses in Europe
Hong Kong sets stimulus package with one-time cash handouts
Click VRUS on the terminal for news and data on the coronavirus and here for maps and charts. For analysis of the impact from Bloomberg Economics, click here.
3M (NYSE:) Climbs as Virus Boosts Mask Demand (2:10 p.m. NY)
3M Co. rose the most in almost three months as Melius Research upgraded the shares to buy from hold, citing demand for N95 respirator masks now in short supply.
U.S. health officials said there could be a need for 300 million facemasks to combat a domestic coronavirus outbreak. St. Paul, Minnesota-based 3M, which makes everything from dental equipment to Post-it notes, is the biggest supplier of the masks, which are widely used by health-care workers.
Health and Human Services Secretary Alex Azar told a House panel Wednesday that the U.S. has about 12 million N95 respirators stockpiled currently, but would need significantly more in the event of an outbreak in the country.
Azar Says 15th Case Confirmed in U.S. (2 p.m. NY)
Azar said the U.S. has a 15th confirmed case of the coronavirus. His count doesn't include the 42 passengers who were evacuated from the Diamond Princess cruise ship or three who were repatriated from Wuhan, China, the epicenter of the outbreak.
Nassau County Monitoring 83 People (1:40 p.m. NY)
Health officials in Nassau County on New York's Long Island are monitoring 83 people who have visited mainland China or may have come in contact with the new coronavirus, officials said Wednesday.
Radio station 1010 WINS, citing County Executive Laura Curran, said six people have been tested so far and that five have been confirmed not to have it. Results of the sixth test aren't in yet.
Health officials around the U.S. have been testing hundreds of travelers who had visited China, where the coronavirus originated.
Spahn: Germany at Beginning of Epidemic (12:45 p.m. NY)
New cases of the virus in the German states of North Rhine-Westphalia and Baden-Wurttemberg are a sign that Germany is "at the beginning of a coronavirus epidemic," Health Minister Jens Spahn said in Berlin on Wednesday.
"It is questionable whether out current strategy of isolating the infection and capping infection chains will work further," Spahn said. "The probability that this virus will circumvent Germany won't be fulfilled"
Pakistan Confirms First Coronavirus Cases (12:05 p.m. NY)
Pakistan's health minister said the country had identified two cases of coronavirus, the first in the country.
Both cases are being treated and are stable, Pakistan health minister Zafar Mirza said on Twitter. "No need to panic, things are under control," Mirza said.
Europe Health Official Predicts Wider Outbreak (11:46 a.m. NY)
"It is likely that Europe will see similar developments like in Italy, varying from country to country," the European Centre for Disease Prevention and Control said in an update Wednesday. "The risk of the occurrence of similar clusters, similar to the ones in Italy, associated with Covid-19 in other countries in the EU/EEA and the U.K. is currently considered to be moderate to high," ECDC said in its risk-assessment report.
Even though "we are still in the containment phase," European Union member states should review their "pandemic plans," the bloc's health chief, Stella Kyriakides, said in Rome earlier today.
"All Member States need to inform us about their preparedness plans and how they propose to implement them," Kyriakides said in a press conference, according to a copy of her prepared remarks. "This is the kind of crucial information that we all need to have if the virus spreads further and I urge Member States to share this with us and each other, as this is important for our mutual security."
White House Says Not Planning to Appoint Virus Czar (11:27 a.m. NY)
The Trump administration said it doesn't plan to appoint a "czar" to take over response to the coronavirus, pushing back on a report in Politico that it was considering doing so.
White House spokesman Judd Deere said the talk of a czar being appointed wasn't accurate:
Health and Human Services Secretary Alex Azar has been leading an administration task force on the virus, and has said U.S. containment efforts have been working well so far. "I don't anticipate one, I think this is working extremely well," he said Wednesday, responding to questions about the appointment of a czar from Congress. "That would be for the president to decide."
Trump Administration Could Seek More Virus Funding (10:45 a.m. NY)
Azar suggested the Trump administration may seek more money for a virus response than the $2.5 billion announced on Tuesday. He told a House panel Wednesday that the administration is planning to spend "at least" that amount and would work with Congress on a final figure."We're trying to be flexible," he said in response to questions.Azar on Tuesday faced critical questioning about the administration's response from members of both parties at congressional hearings on Tuesday. Democrats responded with their own plans to respond to the virus. Senate Democratic leader Chuck Schumer on Wednesday proposed $8.5 billion in spending for the virus response. House Speaker Nancy Pelosi called Trump response "meager, anemic," and a Democratic aide said the House would vote on its own funding plan the week of March 9.
State Department Adds Virus to Italy Travel Advisory (10:44 a.m. NY)
The U.S. State Department said travelers to Italy should exercise increased caution when traveling there because of the coronavirus outbreak in the region of Lombardy. The State Department notice tells people to take precautions but doesn't suggest they cancel travel.
The department's warning has been at Level 2 already because of terrorism risk.
NIH's Fauci Says Global Spread Raises U.S. Risk (10 a.m. NY)
A top American health official said that the spread of cases outside China will make it harder for the U.S. to keep the coronavirus outside its borders.
"The more you see outside of the United States, the greater the risk of it spilling over into the United States," said Anthony Fauci, director of the National Institute of Allergy and Infectious Disease, which is part of the National Institutes of Health.
"Nothing has changed inside our country, but things have changed outside that may ultimately have an impact here," Fauci said during a television interview Wednesday.
Schumer Prepares $8.5 Billion Funding Request: (9:55 a.m. NY)
U.S. Senate Democratic leader Chuck Schumer is preparing a request for emergency coronavirus funding totaling $8.5 billion, according to a senior Senate Democratic aide. His request is expected to be finalized early Wednesday and sent to Appropriations committee members.
Six Nations Rugby Match on March 7 Is Called Off (9:46 a.m. NY)
The Six Nations rugby match between Ireland and Italy, scheduled for March 7, has been called off. Ireland had on Tuesday recommended the match be scrapped on public health grounds.
Four More Cases Reported at Resort in Italy (9:30 a.m. NY)
The total number of cases in Italy rose to 378. Four infections were reported at a hotel in the coastal resort of Alassio in the Liguria region, which is in lockdown with an adjacent hotel, according to regional Governor Giovanni Toti. Some of the 147 tourists will be transferred and quarantined back home as they don't show symptoms.
Brazil Confirms Coronavirus Case, First in Latin America (9:21 a.m. NY)
Brazil has confirmed the first coronavirus case in Latin America and will announce it shortly at a press conference, according to a person with direct knowledge of the matter.
A 61-year-old Brazilian who recently traveled to Northern Italy for work tested positive in a preliminary test, the Health Ministry said in a statement late Tuesday evening. A second round of tests have confirmed the diagnosis, said the person, who isn't authorized to speak publicly ahead of the press conference.
Russia Limits Visas for Iranians, Cuts Korea Flights (9 a.m. NY)
Russia has stopped issuing visas to most citizens of Iran and is limiting flights to South Korea, as the country's top public-health official warned of growing risks that the virus will spread in the country.
Authorities are also calling on Russians to refrain from visiting Italy and will extend restrictions already imposed on travel to China until April 1.
Though its shares a long land border with China, Russia has so far reported only two local cases of COVID-19, both involving Chinese nationals.
Trump Will Hold Coronavirus Press Conference (8:11 a.m. NY)
U.S. President Donald Trump said he'll hold a press conference at the White House Wednesday evening with top health officials at the Centers for Disease Control and Prevention.
The White House has been emphasizing that the coronavirus is firmly under control in the U.S., though officials at the CDC have offered up more dire predictions about the virus's eventual arrival in the U.S. and what the impact would be.
U.K. Focused on Containing Virus: Minister (8 a.m. NY)
U.K. Health Secretary Matt Hancock said his focus for now is on containing the virus. Britain will roll out a wider public information plan in the coming days and an isolation facility has been set up at London's Heathrow Airport.
EU Health Commissioner Urges Member States to Keep Borders Open (7:28 a.m. NY)
European Union member countries plan a joint procurement program to ensure there's enough protective gear for health-care workers, EU Health Commissioner Stella Kyriakides said.
De Beers Lets Customers Stop Buying Diamonds Destined for China (7:19 a.m. NY)
De Beers is allowing its customers to refuse to buy diamonds that are particularly popular with consumers in China and Hong Kong as the coronavirus crisis hits demand in a key gem market, people familiar with the matter said.
Vietnam Sees Manufacturing Growth Slowing on Virus (6:47 a.m. NY)
Vietnam sees first-quarter growth in the manufacturing sector slowing to 6.28% year-on-year, compared with an earlier projection of 10.47%, if the virus outbreak continues until the end of March.
Italy Coronavirus Cases Rise to 374 With 12 Deaths (6:25 a.m. NY)
Italy's coronavirus-linked deaths rose to 12 after a fatality was reported in the Emilia-Romagna region, the head of Civil Protection told a press conference. The total number of cases rose to 374, from 322 previously.
Greece Confirms First Coronavirus Case: State-Run ERT TV (6:09 a.m. NY)
A 38-year old woman hospitalized in the northern city of Thessaloniki tested positive for the coronavirus, state-run ERT TV reported, citing the Health Ministry.
Moody's Expects Coronavirus to Weigh on 2020 Global Auto Sales (6:48 p.m. HK)
Global auto sales are forecast to decline 2.5% in 2020, compared with a previously projected 0.9% drop, Moody's said in a report.
Weibo Says 1Q of 2020 'Significantly Impacted' by Coronavirus (6:06 p.m. HK)
Weibo's first-quarter business has been "significantly impacted" by the coronavirus outbreak in China, the social media platform said.
China's Car Sales Continue to Plunge (5:48 p.m. HK)
Retail sales fell 83% from a year earlier in the seven days through Feb. 23, the China Passenger Car Association said on Wednesday. The drop followed a 92% tumble in the first two weeks of February.
Europe Cases Rise, More Dead in Iran (5:35 p.m. HK)
Italy said cases in Lombardy rose to 259 from 240. France said it found three more cases and reported a fatality.
Iran confirmed 44 new cases, taking its total to 139, and the death toll there rose to 19. Bahrain reported a total of 26 cases and shut schools for two weeks, while Kuwait has reported 18 cases so far. Standard Chartered (LON:) PLC warned Gulf economies will grow at a slower pace than estimated this year as the coronavirus hurts oil demand, trade and tourism.
Europe Debt Risk Jumps to Six-Month High (5:30 p.m. HK)
The Markit iTraxx Europe Crossover index of credit-default swaps on high-yield companies rises for a third day on Wednesday to its highest since Aug. 23, as the relentless coronavirus spread threatens global growth. The index rose as much as 11.1bps to 268, following a 34-point climb this week.
Thailand at Risk of Widespread Outbreak, Minister Says (4:46 p.m. HK)
With Thailand's 40 total confirmed coronavirus cases, the country is at risk of entering "phase 3," which is the highest level of outbreak advisory, the country's health minister said.
Japanese Doctors Test Avigan to Treat Virus (4:40 p.m. HK)
Doctors in Japan are testing several drugs including Fujifilm Holding Corp's anti-influenza drug Avigan on preclincal research to treat the new coronavirus, according to the health ministry.
Fujifilm soared earlier this week following Japanese Health Minister Katsunobu Kato's comments on the country's plans to recommend its Avigan drug to treat coronavirus.
Spanish Hotel Remains in Lockdown (4:38 p.m. HK)
Around 700 guests remained confined to their Canary Islands hotel as Spain stepped up efforts to contain the spread of the coronavirus. Italy and other European nations were on high alert.
The number of infections in Tenerife has risen to four after two more Italians at the hotel were found to have the virus. Separately, Madrid's regional government has confirmed a second coronavirus case, Cadena Ser radio reported.
Virus to Hurt Diageo (LON:), Danone Sales (4:10 p.m. HK)
Diageo said the coronavirus will reduce sales by as much as $422 million this year after bars and restaurants were shut in many parts of China. Danone, which sells Evian water, cautioned that first-quarter sales growth will grind to a halt.
Hermes International (PA:) said it's too early to predict when the Chinese market will recover as the spread of the coronavirus hammers luxury spending there. The French company closed 11 stores in China and has since reopened seven of those.
Earlier on Wednesday, Cathay Pacific Airways Ltd. said 25,000 staff will take unpaid leave. Chief Executive Officer Augustus Tang said in an internal memo that Cathay's challenges "remain acute," and thanked employees for their support. The Hong Kong-based airline this month asked its 33,000 workers to take three weeks off between March 1 and June 30.
South Korean Cases Jump to 1,146 (4:07 p.m. HK)
South Korea confirmed 115 more coronavirus cases, bringing total infections to 1,261. A week ago, the country had only 51 cases. The country is emerging as a second coronavirus hot spot in Asia, as the outbreak in China starts to show signs of plateauing. About two dozen countries have levied restrictions on travelers from South Korea, while flights and tour-group trips to the nation are being canceled.
The lack of strong containment measures from the South Korean government in the city of Daegu, where most cases are emerging, is sparking questions over whether the virus will continue to spread through the country.
A U.S. soldier stationed at a base near Daegu has tested positive, the first time a U.S. service member has been infected, the United States Forces Command said. U.S. Forces Korea raised the risk level to 'high.'
Businesses Rework Asia Supply Chains (12:46 p.m. HK)
More than one-quarter of businesses grappling with coronavirus in Asia say they're setting up or using supply chains that reduce their reliance on China, according to a survey by the American Chamber of Commerce in Singapore.
The poll offers a glimpse into firms' evolving strategies as confirmed cases of the virus accelerate in countries within and outside Asia, slamming global financial markets and forcing policy makers to unveil stimulus packages and monetary easing.
Japan Wants Big Events Halted or Scaled Back (12:28 p.m. HK)
Japanese Prime Minister Shinzo Abe called for major sporting and cultural events to be called off, postponed or scaled down over the next two weeks, saying the move was crucial in preventing the domestic spread of the new coronavirus.
Abe introduced a new government plan on Tuesday to control the disease that called on employers to encourage telework and stagger working hours in an attempt to slow the spread of the disease.
One major concern facing Abe has been whether the virus will derail Tokyo's plans to host the Summer Olympics later this year. Japanese and Olympic officials have said there is no change to holding the games as planned, but there is a lot at stake for Abe. Tokyo has been preparing for the games for about seven years, spending more than $26 billion to ready the city, according to some estimates.
Hong Kong Unveils $15 Billion Stimulus Package (11:49 a.m. HK)
Hong Kong Financial Secretary Paul Chan announced a HK$120 billion ($15.4 billion) relief package, in an effort to shore up economic confidence in a city battered by political unrest and the coronavirus. The main feature of Chan's annual budget announced Wednesday is a payment of HK$10,000 to each permanent resident of the city 18 or older.
Carrie Lam's administration is seeking to put a floor under the collapsing economy, rolling out a bolder budget than has been seen in recent years. Months of political unrest pushed Hong Kong last year into its first annual recession in a decade, with economists forecasting a second annual contraction in 2020 as disruptions from the coronavirus outbreak further depress the city's output.
Brazilian Tests Positive in First Latin America Case (10:44 a.m. HK)
A 61-year-old man in Sao Paulo tested positive for the new coronavirus, in what can be the first case of the disease in Latin America. A counter-test is being made by Brazil's reference hospital, Instituto Adolfo Lutz, the Health Ministry said in a statement published on its website and in its Twitter account.
The man traveled to Northern Italy for work Feb. 9 through Feb. 21, and has mild symptoms that match the ones of a suspected Covid-19 infection, the statement said.
China Reports 406 Additional Coronavirus Cases (9:50 a.m. HK)
China reported 406 new cases from the coronavirus, bringing the total number of cases in the country to 78,064. China's death toll rose by 52 to 2,715, with all the fatalities occurring in Hubei province.
A total of 29,745 patients have been discharged from hospitals since the outbreak, the commission said. Hubei province, where the outbreak originated, reported 401 additional confirmed cases.
Researchers Make Advances in Virus Testing (8:52 a.m. HK)
A medical research team in Singapore has managed to establish links between cases in the city-state using a new testing method.
Using a serological test developed by researchers from the Duke-NUS Medical School, the team was able to confirm that two individuals had earlier been infected with the coronavirus, also known as COVID-19, the Ministry of Health announced Tuesday. Serological tests identify antibodies in blood samples, which the immune system produces in response to an infection.